Deck Carver Swallow

The 29.5" Swallow has been one of our favorite boards for years and a staple in the Carver quiver. This little board handles like it's namesake, fast and loose.

The combination of short and wide is magic, because the shorter wheelbase makes pumping this board on the flats just effortless, but the extra width and concave makes it a comfortable cruiser, too. The kick tail completes the versatility, giving you some needed pop for kick turns and crack-in-the-road hopping, explaining why it's been one of the longest running designs in the Carver line.

We've updated the graphic with one of surf-artist Ryan Kleiner's hand painted waves, evoking exactly the feeling of looking through the eye of the tube.

This board will work equally well with either the C7 or CX truck sets; the C7 set will give the board a more flowing performance with a great range of adjustability, the CX set will give the board a more snappy performance with a lighter frame.

Size: 9 5/8" wide x 6 1/8" tail x 3 3/4" nose x 15 1/2" wheelbase.

El producto incluye solamente la tabla y la lija.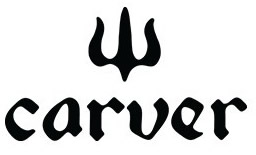 Todo comenzó un tranquilo verano en Venice, California, en 1995. Greg Falk y Neil Carver habían estado surfeando todo el invierno, y cuando llegó el verano las olas desaparecieron y el mar estaba plato como un charco. Ni siquiera había olas para el longboard. Así que, como las muchas generaciones anteriores, salieron a las calles con skates en busca de colinas para surfear.

Comentari
Encara no hi ha cap comentari per a aquest producte.
Si us plau, inicii sessió per a escriure una opinió. Entra