Pukas The Wombi fish
After having very successful results with our dedicated quad model, The Cali Quad, in both Europe and the rest of the world I felt the strong need to provide a similar, user friendly quad design in the PUKAS range and hence the Wombi Fish was born.
The design of the Wombi fish looks relatively simple at first look but has some small, important details that give the board extra edge and performance. It features a wide, clean outline with a full nose and medium swallow tail with a slight direction change or 'hip' that extends from the leading fins off the tail. A subtle attribute inspired from a Skip Frye quad shaped for Tom Carroll that he proudly came and showed me back home in Sydney. The bottom contours of the Wombi Fish begins with a simple rolled entry at the tip of the nose which then blends into our signature subtle quad concave just forward from the chest. From there, a double within a single concave takes effect and strengthens through the mid-section of the board (between the feet) finally finishing with spiral vee through the fins and off the tail.
Another addition to the bottom of this model is the flattening of the outer edge of the rail, in effect it's a subtle bevel rail and this allows the initiation of the turn with The Wombi Fish. In other words it frees up the board. The combination of these bottom contours matched with a relatively flat rocker (especially in the tail) creates a fast, responsive small wave board suited for clean, low energy waves.
All the Pukas x Eye Symmetry surfboards are built on a traditional polyurethane core with a complete epoxy laminate and finish known as PE construction.
The epoxy resin is known to be a higher quality material than polyester. Is more UV resistant, stronger and has more reactive flex pattern. The result is a whiter and brighter surfboard that doesn't yellow as quickly as a traditional polyester construction (aesthetics) which responds faster to your movements (performance).
Medidas recomendadas para la fabricación:
5'2 x 19 3/4 x 2 3/16 - 25.2 Litros.
5'4 x 20 1/4 x 2 1/4 - 27.4 Litros.
5'6 x 20 3/4 x 2 5/16 - 29.9 Litros.
5'8 x 21 1/4 x 2 3/8 - 32.4 Litros.
5'10 x 21 3/4 x 2 7/16 - 35 Litros.
6'0 x 22 1/4 x 2 1/2 - 37.8 Litros.
6'2 x 22 3/4 x 2 9/16 - 40.8 Litros.
Si quieres realizar alguna pequeña modificación en las medidas, quitar o poner algún litro extra y algún color o diseño personalizado puedes contactar con nosotros y te ayudaremos a fabricar la tabla que realmente estás buscando. En caso de no disponer en stock de la medida solicitada, tardaremos unas 4-5 semanas en enviarte tu tabla pues la fabricaremos previo pedido y abono de la misma.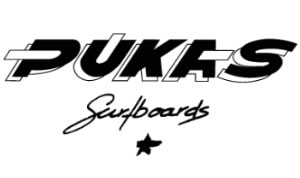 Pukas Surf es una empresa familiar con sede en el País Vasco que se ha forjado una gran reputación internacional por fabricar tablas de surf de calidad de alto rendimiento. Mezclando una visión global y un conocimiento local, esta marca ha sido capaz de alimentar su adicción al surf desde que dieron forma a una tabla de surf por primera vez en 1973.

Comentari
Encara no hi ha cap comentari per a aquest producte.
Si us plau, inicii sessió per a escriure una opinió. Entra