JG Boards M4 LTD
The M4 LTD is designed specifically for surfing on edge.
The concave hull and graduated channels increase surface area of the hull and creates a deeper bite into the wave.
It releases later and more powerfully. Controlled, the combination of the bat tail and hull systems will have you sitting deeper and deeper and will make you draw new lines in your surfing.
Hip-Loc systems also feature in this model so you can push harder through your turns.
Kinetic Core
NXL Deck
Contour
Surlyn Bottom
Nose Bulbs
Graduated Channels
Concave Hull
Hip Locks
CFS Stringer System
Bat Tail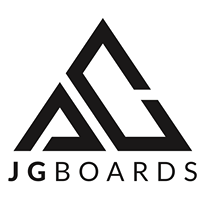 Fundada por Jarrod Gibson JG Boards tiene como principal objetivo la fabricación de bodyboards de la más alta calidad disponible y en la creación de un equipo de atletas para llevar el bodyboarding a nuevos límites.

Reviews
There are yet no reviews for this product.
Please log in to write a review. Log in