Tabla Foil Kite Hover Custom
Highly compact with minimal volume, the Hover 112 takes full advantage of minimalist design. Intended for experienced-to-expert foilers, this petite board delivers superior control in tight turns for a dynamic and responsive riding experience. When riding strapless, another key advantage of its size is the ability to sink the board and position it on its edge for easier take-offs. Its precise, CNC cut, closed cell core is wrapped in lightweight, high-tensile fiberglass, which heightens durability without weighing it down. The dual track system allows riders to instantly adjust where the foil sits on the board, for a more customized riding experience. Once you master foiling, "less is more. . . " and these boards provide everything you want, with nothing you don't!
Características del producto:
Expert Foiling
Extreme Compact Design = Minimalist board
Rounded Edges = More forgiving ride
Double UD Deck Fiberglass Reinforcement = Increases stiffness & board feedback when launched
Lightweight = Responsive feel & minimal weight
Full 3D Double Density Deck Pad = Excellent comfort + cushioning + traction + flotation
CNC Shape = Absolute precision shaping
(2) 10" US Boxes = Convenient foil adjustment
Insert Screws Included (foot straps sold separately)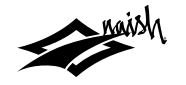 Naish es una gran marca intenacional con sede en Maui, Hawaii, dedicada a la fabricación y desarrollo de material para deportes acuáticos de gran calidad y resistencia. Su fundador Robby Naish ha ganado varios títulos mundiales de windsurf y kitesurf y es una leyenda y waterman muy reconocido. Material de kitesurf, tablas, cometas, barras y accesorios varios, material de SUP, remos y accesorios desde 1979.

Reviews
There are yet no reviews for this product.
Please log in to write a review. Log in