Tabla SurfKite Naish 2017 Skater Sport 
A great fit for beginner up through advanced kiters, the modern shape of the Skater Sport takes directional strapped or strapless riding to new levels in any surf condition.
The outline and length of the Skater Sport is finely tuned to deliver optimal control and balance, helping riders execute aerial tricks and hit critical sections with ease and confidence. An angled channel flow, rocker and single concave combine to improve grip and maneuverability for a tighter turning radius. Thinner rails help twin tip riders transition to directional riding faster, while the compact shape makes for tighter, faster, snappier turns.
Versatile Wave/Freeride
5'2'' x 17 1/4'' x 1 7/8'' (157.5cm x 43.8cm x 4.8cm)
5'6'' x 17 3/4'' x 2'' (167.6cm x 45.1cm x 5.1cm)
Triple Angled Channels = Increased flow to fins for extra grip & better turning
Deep single Concave Center = Soft landings + easy rail-to-rail transition
Lightweight Compact Shape = Ultimate control + balanced ride + convenient for travel
Double Bamboo Deck = Maximum durability + minimizes pressure dents
Rail Dents on Deck = Optimized flex characteristics + easier grab & handling
Parallel Outlines = Stability + perfect balance + smooth in chop
Thinned Rails in Tail = Superior grip
CNC Shape = Absolute precision shaping
Surf Skin Bottom = Real surfboard feel on water + resilient + firm
Front and Stomp Deck Pad = Excellent comfort + cushioning + traction
Thruster Fin Setup = Snappy + control + release off the top
Honeycomb Core Fins = Lightweight + high flex
Este producto no incluye bindings.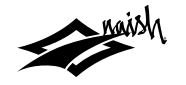 Naish es una gran marca intenacional con sede en Maui, Hawaii, dedicada a la fabricación y desarrollo de material para deportes acuáticos de gran calidad y resistencia. Su fundador Robby Naish ha ganado varios títulos mundiales de windsurf y kitesurf y es una leyenda y waterman muy reconocido. Material de kitesurf, tablas, cometas, barras y accesorios varios, material de SUP, remos y accesorios desde 1979.

Reviews
There are yet no reviews for this product.