Christenson Dead Sled
A solid platform for nose riding with its wide nose, it also features a tail with a bit of kick for rapid direction changes in the pocket.
Scotty Stopnik is a frenetic ball of energy bouncing between surfing, skateboarding and building jaw-dropping bikes. It's from this energy that the Dead Sled was derived.
Shaping and delivery time 4/6 weeks.
Made in Europe.
Medidas recomendadas para la fabricación:
9'0 x 22 1/2" x 2 13/16"
9'3 x 22 3/4" x 2 7/8"
9'6 x 23" x 3"
9'8 x 23 1/4" x 3 1/16"
10'0 x 23 1/4" x 3 1/16"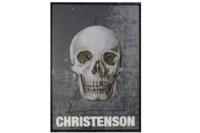 Chris Christenson es el fundador de Christenson Surfboards. Nacido el 14 de mayo de 1973 en Whittier (EE.UU.). Su herramienta favorita es la herramienta Skill 100 Power Tool. En su opinión, no hay nada bueno o malo a la hora de elegir una tabla de surf: "Siempre he sido un fan de los cantos más largos. Las tablas de 7'0" a 8'0" haciendo un giro adecuado en una ola de tres pies es algo hermoso en mi opinión", dice. Chris shapea en la fábrica de Pukas cada vez que viene a Europa.

Reviews
There are yet no reviews for this product.
Please log in to write a review. Log in