Longboard Walden Mega Magic
The MEGA MAGIC Fusion-HD is wide with condensed volume. We take volume from the length and redistribute it to the width and thickness while maintaining the famous Magic performance. The Mega has the classic Magic elements: hard rails, concave bottom, and lots of rocker.
El Mega Magic es uno de los longboard más populares en los USA. Está diseñado inspirándose en los longboards de tandem y tablas de SUP. Se caracteriza por tener el volumen redistribuido en el ancho y en el grueso de la tabla en vez de tenerlo a lo largo del longboard.
Es como una pulgada más grueso y una-dos pulgadas más ancho que un longboard normal. Por lo tanto un surfer grande que esté acostumbrado a surfear con un diez pies puede usar tranquilamente un 8 ó 9 pies sin perder flotabilidad. Tiene un increible cóncavo desde el nose y un extra nose quick para asegurar un buen control del nose. En la parte baja de la tabla tiene un doble cóncavo que termina en una cola fina con rocker moderado saliente para poder realizar un surf fluido desde el bottom.
Te sorprenderá por su bajo peso gracias a su fabricación con foam EPS de epoxy de última generación. Surfeando con este longboard tendrás siempre ventaja en el agua sobre los otros surfistas gracias a su diseño y rocker que te ayudarán a superar tus límites.
Perfecta para riders que estén buscando un longboard más corto pero que quieran mantener el estilo del longboard. Es una máquina de pillar olas y realmente una tabla mágica!
Plazo de entrega de unos 10-12 días.
Envíos asegurados por SEUR.
Medidas en stock:
7'2'' x 23.5'' x 3.5'' - 67.2 Litros.
8'0'' x 23.5'' x 4'' - 82.2 Litros.
9'0'' x 24'' x 4.25'' -  101.6 Litros.
9'6'' x 24.25'' x 4.25'' - 113.7 Litros.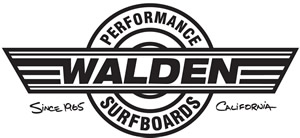 Steve Walden es conocido en la industria del surf como el "padre del longboard moderno" gracias a su gran contribución al desarrollo de este tipo de tabla de surf. Como surfista profesional reconocido, Walden creció en el corazón de la revolución industrial del surf de las playas del surf de California, shapeando sus propias tablas y para sus amigos durante más de 40 años.


Reviews
There are yet no reviews for this product.
Please log in to write a review. Log in