BIC Mini Malibu 7'3''
The Mini-Malibu is the perfect all rounder. A fabulous entry-level board for new surfers, it features a refined combination of stability for ease of paddling and enough performance to make it a fun board for the more advanced surfer.

Versatile and a joy to ride, the Mini-Malibu surfboard will take you from your first ever surfing experience through to gliding down the unbroken wave face or ripping up the lip! Durable enough to survive learn-to-surf wipeouts that leave other boards on the beach, this low-cost board will bring you hours of fun on a great range of wave conditions.

The world's single best-selling surfboard! A proven all-rounder : Stability for paddling and catching waves for beginners, great drive off the bottom turn that allows more advanced surfers to set-up easily for the rest of the wave, even in the critical section. A joy to ride and a performance potential that will give you long lasting memories of surfing great waves!
Easy to surf: comfortable shapes, ideal for quick learning and progressing
Fun to ride: authentic surfboard qualities for immediate stoke
Built to last: unbeatable durability. Don't worry about your board, just have fun!
Fabricada con tecnología DURA-TEC que te ofrece una tabla resistente y fácil para surfear a un gran precio. 
Medidas: 7'3'' x 21 1/4 x 2 1/2 - 46 Litros.
Recomendada para surfistas de peso inferior a 80Kg.
Incluye juego de tres quillas FCS M5.
Grip Premium traction pad.
Made in France.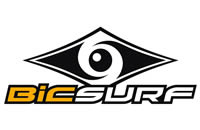 Desde 1979 la marca BIC fabrica tablas de epoxy de windsurf de una gran calidad y resistencia. En el año 1994 comenzó a fabricar tablas de surf usando su experiencia y desde entonces es una de las marcas más reconocidas a nivel mundial en fabricación de tablas de epoxy para nivel principiante.

Reviews
There are yet no reviews for this product.
Please log in to write a review. Log in