Bradley Tang Fish
A free-flowing aquatic creature that will enable the rider to feel everything a classic fish can offer.
However, the Tang has been modernized to incorporate every sensation modern surfing can provide.
The belly of the fish has a slight single concave blending to a slight double, then low vee in the tail.
An easy low entry rocker for paddling and immediate takeoff speed with a low straight rocker for trim.
With medium-full down rails and slightly pulled in fish tail.
This fish is wide for the glide! If you are fishing this summer hook a Tang Fish, it won't disappoint.
Medidas disponibles para la fabricación:
5'2 x 20 1/4 x 2 1/4 - 25.6 Litros.
5'4 x 20 1/2 x 2 3/8 - 28.3 Litros.
5'6 x 20 3/4 x 2 1/2 - 31 Litros.
5'8 x 21 x 2 1/2 - 32.6 Litros.
5'10 x 21 1/4 x 2 5/8 - 35.6 Litros.
6'0 x 21 1/2 x 2 5/8 - 37.4 Litros.
6'2 x 21 3/4 x 2 3/4 - 40 Litros.
6'4 x 22 x 2 3/4 - 42.6 Litros.
En caso de no tener stock en tu medida pasaremos orden de fabricación con un plazo de entrega de 4 semanas.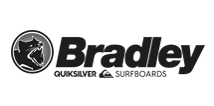 Christiaan Bradley comenzó a shapear en la Gold Coast en Australia hasta que ganó credibilidad y confianza. En unas vacaciones en Europa, conoció a Stephen Bell y se convirtió en el shaper oficial para Europa de Channel Islands Al Merrick, y también la confianza de Kelly Slater que llevaba sus tablas. En la actualidad las tablas de surf Bradley están consideradas como unas de las mejores a nivel internacional.

Reviews
There are yet no reviews for this product.
Please log in to write a review. Log in