Christenson Long Phish
Still probably the most versatile design of all surfboard craft.
If you were stranded on an island for the next 10 years and were only allowed one board this would be my recommendation.
Tested from Cardiff Reef to Ulu Watu, Waikiki to Pipe, this is a very trustworthy design.
Double foil fins with low cant and toe complimented by the twin pin tail allow this board to reach high speeds and insure hold whenever on the rail.
Shaping and delivery time 4/6 weeks.
Made in Europe.
Medidas recomendadas para la fabricación:
6'6 x 21 1/4 x 2 1/2
6'8 x 21 1/2 x 2 5/8
6'10 x 21 5/8 x 2 3/4
7'0 x 21 3/4 x 2 3/4
7'2 x 21 7/8 x 2 3/4
7'4 x 22 x 2 3/4
7'6 x 21 1/2 x  2 3/4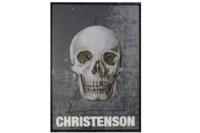 Chris Christenson es el fundador de Christenson Surfboards. Nacido el 14 de mayo de 1973 en Whittier (EE.UU.). Su herramienta favorita es la herramienta Skill 100 Power Tool. En su opinión, no hay nada bueno o malo a la hora de elegir una tabla de surf: "Siempre he sido un fan de los cantos más largos. Las tablas de 7'0" a 8'0" haciendo un giro adecuado en una ola de tres pies es algo hermoso en mi opinión", dice. Chris shapea en la fábrica de Pukas cada vez que viene a Europa.

Reviews
There are yet no reviews for this product.
Please log in to write a review. Log in