Christenson Invisible Policeman
Inspired by my poor seppo driving skills on the left side and running over an invisible policeman on a recent trip in Australia.
Low rails and multiple bottom contours to help you outrun and get sneaky around any sections and intersections smooth and casually.
Shaping and delivery time 4/6 weeks.
Made in Europe.
Medidas recomendadas para la fabricación:
6'4 x 19 3/4 x 2 5/8
6'5 x 19 7/8 x 2 11/16
6'6 x 21 x 2 5/8
6'10 x 21 x 2 3/4
7'0 x 21 x 2 3/4
7'2 x 21 1/4 x 2 7/8
7'6 x 21 1/4 x 2 7'8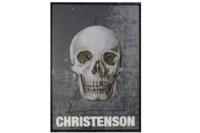 Chris Christenson es el fundador de Christenson Surfboards. Nacido el 14 de mayo de 1973 en Whittier (EE.UU.). Su herramienta favorita es la herramienta Skill 100 Power Tool. En su opinión, no hay nada bueno o malo a la hora de elegir una tabla de surf: "Siempre he sido un fan de los cantos más largos. Las tablas de 7'0" a 8'0" haciendo un giro adecuado en una ola de tres pies es algo hermoso en mi opinión", dice. Chris shapea en la fábrica de Pukas cada vez que viene a Europa.

Reviews
There are yet no reviews for this product.
Please log in to write a review. Log in