Pukas Rocket Twin
The Rocket Twin loves to draw long, sharp and fast curves.
The double concave, low rails, straight fish tail combined with the 4 speed channels keep the board moving forward and hold tight during hard carving maneuvers.
This is your high performance twin choice. Like the Round Twin, the Rocket Twin comes with Futures boxesdue to the complex bottom shape and deep concaves.
Medidas recomendadas para la fabricación:
5'6 x 19 1/4 x 2 3/8 - 27 Litros.
5'8 x 19 1/2 x 2 1/2 - 30 Litros.
5'10 x 20 x 2 5/8 - 33 Litros.
6'0 x 20 1/2 x 2 3/4 - 37 Litros.
6'2 x 20 3/4 x 2 7/8 - 40 Litros.
Si quieres realizar alguna pequeña modificación en las medidas, quitar o poner algún litro extra y algún color o diseño personalizado puedes contactar con nosotros y te ayudaremos a fabricar la tabla que realmente estás buscando. En caso de no disponer en stock de la medida solicitada, tardaremos unas 4-5 semanas en enviarte tu tabla pues la fabricaremos previo pedido y abono de la misma.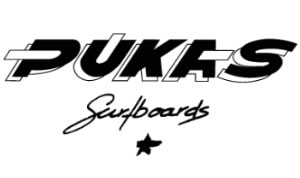 Pukas Surf es una empresa familiar con sede en el País Vasco que se ha forjado una gran reputación internacional por fabricar tablas de surf de calidad de alto rendimiento. Mezclando una visión global y un conocimiento local, esta marca ha sido capaz de alimentar su adicción al surf desde que dieron forma a una tabla de surf por primera vez en 1973.

Reviews
There are yet no reviews for this product.
Please log in to write a review. Log in