Semente Jig
This board design is a revival of what was Jose Gregório's (3x Portuguese champion) secret weapon for small to medium contest surf back in his competitive days. At that time we also made a ton of this unnamed model for Italy as it excelled in weak Mediterranean conditions. We have since modernized, refined and tested this model to assure that it was on point for release.
"The Jig" is a full outlined bomb for small to medium surf. This board features a low rocker line with single concave feeding in to an accentuated vee in the tail, thus maintaining a continuous curve on the rail line and maximum speed through the center of the board. The vee in the tail gives it that extra release and pivot and enables us to use a wider swallow and still keep it loose.
This is a great choice for mushy or small conditions and should be used 2-3" shorter than your normal surfboard.
Foam is your friend and this model has got some. Great summer sled.
Medidas disponibles para la fabricación:
5'7 x 19 3/4 x 2 3/8 - 27.8 Litros.
5'8 x 19 7/8 x 2 3/8 - 28.5 Litros.
5'9 x 20 x 2 7/16 - 29.8 Litros.
5'10 x 20 1/16 x 2 1/2 - 31.1 Litros.
5'11 x 20 1/16 x 2 1/2 - 31.6 Litros.
6'0 x 20 1/8 x 2 9/16 - 33.2 Litros.
6'1 x 20 1/4 x 2 5/8 - 34.3 Litros.
En caso de no tener stock en tu medida pasaremos orden de fabricación con un plazo de entrega de 4-6 semanas.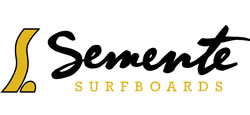 En 1982, Portugal era el sueño de los surfistas y Ericeira era un viaje de surf obligado debido a la calidad de sus olas. En aquellos años Nick Uricchio y Miguel Katzenstein crearon Semente Surfboards abriendo su fábrica cerca de una de las mejores derechas de Europa, Coxos. El surf, la pasión por diseño y la fabricación de tablas de surf de gran calidad han covertido a Semente en una de las mejores marcas europea del momento.

Reviews
There are yet no reviews for this product.
Please log in to write a review. Log in