Windsurf Mad Dog 2019
Proven in one of the best wave riding spots in the world, the Mad Dog is the only production board that made it to podium at the 2017 Aloha Classic. Evolved from the Hardline, this fresh approach to aggressive wave shapes features a progressive design, which offers an incredible range of surf performance for elite sailors like Bernd Roediger and Robby Naish to intermediate sailors looking to elevate their wavesailing abilities.Featuring ample volume through the mast track, the Mad Dog is early to plane and carries speed down the line—even in flat wave sections—with its single concave to accelerated V through the tail. The thruster fin setup gives all the benefits of extra drive through the turn without sacrificing top-end speed. Ho'okipa tested and proven worldwide, the Mad Dog is the ultimate waveboard in both side-on- and side-off-shore conditions.
Características del producto:
Performance Wave
Compact & Narrow Tail Outline = Maximum drive & control through the bottom turn & off the top
Single Concave Bottom w/ an Accelerated V out the Tail = Increased front foot turning ability with ultimate release through the V section in the tail off the top
Thickened Rails in the Mid-to-nose Section = Increased support through turns
Thinned-out Rails in Tail Section = Maximizes grip & control
Ergonomic Foot Straps = Comfortable fit + easy adjustment
High Density Footpads = Excellent board feel
MFC Thruster Fin Setup = Outstanding trim range + precision board control
US Box = Adjustable fin positioning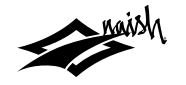 Naish es una gran marca intenacional con sede en Maui, Hawaii, dedicada a la fabricación y desarrollo de material para deportes acuáticos de gran calidad y resistencia. Su fundador Robby Naish ha ganado varios títulos mundiales de windsurf y kitesurf y es una leyenda y waterman muy reconocido. Material de kitesurf, tablas, cometas, barras y accesorios varios, material de SUP, remos y accesorios desde 1979.

Commentaires des clients
Il n'y a pas encore de commentaire sur ce produit.
Veuillez vous identifier pour poster un commentaire. Connexion