Freeride 2019 Alana
The Alana is designed specifically for women who demand all-around freeride, freestyle and TT waveriding performance in a single board. The outline, flex and dimensions are all specifically designed to respond to lighter degrees of rider input and lower loads.
 
The medium rocker is the perfect blend of responsive feel and forgiving ride while the supreme wood core delivers a soft, natural flex without sacrificing strength or weight. 3D bottom shaping ensures this versatile board can meet and exceed performance demands, as the Alana is shaped for excellent edging, chop piercing precision and superior grip.
Características del producto:
Women's Freeride/Freestyle
Medium Flex = Dynamic, all-around handling
Freeride Rocker = Chop-eating & forgiving rocker + back foot directional stability
FTC 2.0 (Flex Torsion Control) = Optimized stiffness in both the axial & torsional axis + superior control
10° Angle Fin Platform = Superior grip + upwind performance
Este producto no incluye bindings.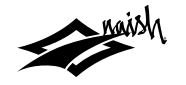 Naish es una gran marca intenacional con sede en Maui, Hawaii, dedicada a la fabricación y desarrollo de material para deportes acuáticos de gran calidad y resistencia. Su fundador Robby Naish ha ganado varios títulos mundiales de windsurf y kitesurf y es una leyenda y waterman muy reconocido. Material de kitesurf, tablas, cometas, barras y accesorios varios, material de SUP, remos y accesorios desde 1979.

Recensioni
Nessuna recensione disponibile per questo prodotto.
Autenticati per poter scrivere una recensione. Accedi