Windsurf Naish 2016 Global
Tabla de Windsurf Naish Global varias medidas.
Tabla Windsurf Naish 2016 Global
The Global is designed for sailors looking to make the most of onshore wave conditions. Designed to be fast and easy to ride, the Global is also a blast in small sideshore waves and flat water. It features added tail volume for increased planing power in backside turns and when crossing over whitewater. Sailors will also take comfort in the superior grip in bottom and top turns while backside riding due to its harder mid-section rails. It can also double as a high wind flatwater board thanks to its superior planing potential in a variety of conditions.
Características del producto:
Onshore All-around Wave
Compact, Parallel Outline = Fast acceleration + early planing + tight maneuverability 
V Bottom Shape w/Increased V out the Tail = Better release
Defined Rail Tuck = Better release for early planing & speed
Thinned-out Rails in Tail Section = Maximizes grip & control
Ergonomic Foot Straps = Comfortable fit + easy adjustment
High Density Footpads = Excellent board feel
Thruster MFC Fin Setup = Outstanding trim range + precision board control
US Box = Adjustable fin positioning
Disponible en 78 y 88.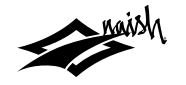 Naish es una gran marca intenacional con sede en Maui, Hawaii, dedicada a la fabricación y desarrollo de material para deportes acuáticos de gran calidad y resistencia. Su fundador Robby Naish ha ganado varios títulos mundiales de windsurf y kitesurf y es una leyenda y waterman muy reconocido. Material de kitesurf, tablas, cometas, barras y accesorios varios, material de SUP, remos y accesorios desde 1979.

Recensioni
Nessuna recensione disponibile per questo prodotto.
Autenticati per poter scrivere una recensione. Accedi