Tabls Windsurf Starship
A perennial favorite of windsurfers all over the world, the 2019 Starship puts incredible freeride and bump-n-jump performance into an easy-to-ride design for any condition from flatwater to waves. Its flat, fast rocker is quick to plane—even in marginal conditions—while its beveled edges slice through chop providing a smooth and easy-to-control ride at high speeds.
The perfect board for intermediate sailors progressing through various maneuvers, the Starship will have you jibing like a pro with its ample volume in the tail. The bottom shaping features a single concave entry, double concave V midsection and V Bottom through the tail that propels the board forward. The redesigned bat tail gives the Starship a more compact shape and minimizes surface area for higher top-end speed and a tighter turning radius. All 2019 Starships are equipped with premium MFC Freewave  fins, giving riders that extra level of performance and the addition of the 80 liter size adds even greater range to this popular fleet.
Características del producto:
Flat, Fast Rocker = Early planing + balanced ride
Beveled Rails = Smooth ride, softens chop + extremely forgiving in jibes
Full Rails with Tuckered Under Edge = Stability + water release for early planing
NEW Bat Tail = Tighter turns + Increased top speed
Medium Density Footpads = Comfortable ride + excellent board feel
Wide Point Carried Forward = Stability through jibes + effortless control
Single Concave to Double Concave V to V Bottom + Early planing + smooth ride + easy to jibe
MFC Freewave Power Box Fin = Early planing + upwind performance + easy jibing
Power Box = Ultra strong + perfect fin position
Full PVC + Double T-stringer + Wood-reinforced Biax Glass
LENGTH: 223 cm, WIDTH: 57 cm, REC. SAIL SIZE: 3.7-6.0, VOLUME: 80 L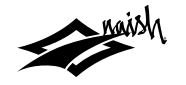 Naish es una gran marca intenacional con sede en Maui, Hawaii, dedicada a la fabricación y desarrollo de material para deportes acuáticos de gran calidad y resistencia. Su fundador Robby Naish ha ganado varios títulos mundiales de windsurf y kitesurf y es una leyenda y waterman muy reconocido. Material de kitesurf, tablas, cometas, barras y accesorios varios, material de SUP, remos y accesorios desde 1979.

Recensioni
Nessuna recensione disponibile per questo prodotto.
Autenticati per poter scrivere una recensione. Accedi