Winkowski Primeva 10.34 x 30.54
Relive the glory days of the '80s with tons of old school cool! Prepare yourself to feel what it was like to go skating in the '80s, which was a colorful and gnarly experience, where boards came with directional shapes and rails.
Dimensiones: 10.34 x 30.54
Fabricado en madera de arce americano.
Caraterísticas de la base:Kicktail, Directional
Cóncavo:Medio
Dureza de las ruedas:78A
Material de las ruedas:PU fundido
Precisión de rodamientos:ABEC-3
Tipo de eje:Standard kingpin, Suspensión estándar
Lija:Pre-gripped
Estilo de riding:Park y Vert, Cruise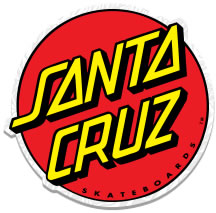 La compañía fue fundada en 1973 por surfistas del norte de California, Rich Novak, Doug Haut y Jay Shuirman. A partir de ahí crearían una gran firma de fama internacional cuya gama de productos abarcaría todo tipod e deportes de deslizamiento como Santa Cruz skateboards fabricados por NHS, Inc. San Cruz Snowboard, Santa Cruz longboard y muchos más productos hoy por hoy emblemáticos.

Reviews
There are yet no reviews for this product.
Please log in to write a review. Log in