Deck Santa Cruz
Powerply skateboard decks are made with Santa Cruz' fine selection of traditional maple with plastic inserts at the tail and nose. These inserts bring you a combined bundle of awesomeness with added pop and longevity and leave you with a deck far less prone to chipping should you slam your board into a corner.
Then you may want to take a look at one of the long-lived Powerply decks from Santa-Cruz, that are produced with a solid focus on making them last. Pop it like it is nobodies business with Powerply
Deck Concave: Medium.
Deck Wheelbase: 14.5"
Deck Length: 32"
Deck Width: 8.375"
Deck Nose: 6.9"
Deck Tail: 6.5"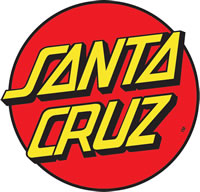 Con casi 50 años de experiencia en el mundo del skateboard y del surf la legendaria marca californiana Santa Cruz presenta su colección de accesorios con la colaboración de grandes artistas para sus diseños.

Reviews
There are yet no reviews for this product.
Please log in to write a review. Log in