Deck Santa Cruz
Santa Cruz came with VX as an answer for everyone who breaks their decks or is looking for a longer-lasting, better popping alternative to standard 7-ply. VX decks are thinner, stronger, and have more pop than standard 7 ply decks featuring 5 plies of North American Maple and 2 layers of Quad X technology.
Deck Concave: Medium.
Deck Wheelbase: 14.375"
Deck Length: 32.25"
Deck Width: 8.5"
Deck Nose: 7.125"
Deck Tail: 6.625"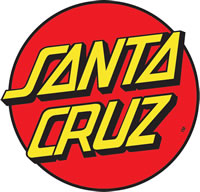 Con casi 50 años de experiencia en el mundo del skateboard y del surf la legendaria marca californiana Santa Cruz presenta su colección de accesorios con la colaboración de grandes artistas para sus diseños.

Reviews
There are yet no reviews for this product.
Please log in to write a review. Log in